A Green Thumb: Tucker County High School Will Build a Unique Greenhouse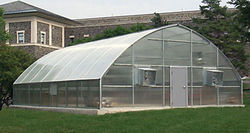 Tucker County High School teachers, volunteers and students are banding together on a unique project. The school has acquired a National Forest Foundation Grant for $91,000 for the purpose of constructing a 30 foot by 72 foot greenhouse with an attached 20 foot by 30 foot research classroom.
Once completed, the greenhouse will raise two native species, Red Spruce and Balsamic Fir seedlings for reseeding Monongahela National Forest.
Shane Eakle teaches chemistry and environmental science at Tucker County High. He wrote wrote the grant and is helping coordinate efforts for constructing the greenhouse.