ELKINS, WEST VIRGINIA – The Nature Conservancy completed a major restoration project in the high-elevation forest of West Virginia's Randolph County this month, planting 34,000 red spruce trees in land that is now part of the Monongahela National Forest.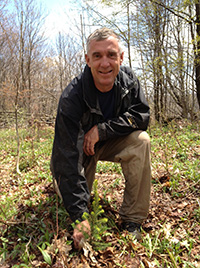 The trees were planted over a three-week period on the slopes of Mount Porte Crayon, about 30 miles from Elkins. The project was funded by a $250,000 climate adaptation grant from the Wildlife Conservation Society and is part of a larger effort by the Central Appalachian Spruce Restoration Initiative to bring back West Virginia's iconic mountaintop forests.
"These little spruce trees are only about 12-18 inches tall now, but when they're older they'll be the foundation of a thriving forest ecosystem," said Andrea Brandon, coordinator of the Conservancy's Central Appalachian Program. "This forest serves as a natural stronghold in the face of climate change. It is home to a wide variety of birds, including the Blackburnian warbler, to Virginia big-eared bats, native brook trout and to the threatened Cheat Mountain salamander."
The high-elevation spruce forest targeted for restoration also provides habitat for the West Virginia northern flying squirrel – an animal that was recently removed from the national list of endangered species after a recovery effort of more than 25 years.