Home: CASRI's Kenyan Intern Says Thanks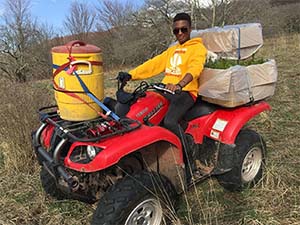 I'm back home now, in Nairobi, Kenya, immersed in University classes and focused on the upcoming exams. As I reflect on my Internship with the Central Appalachian Spruce Restoration Initiative (CASRI), I realize that things have changed; I'm viewing life through a different lens than I was before. I'll never be able to thank all the people who contributed to my 5-month Internship, but I would like to mention a few of them. Neither will I be able to articulate all the wonders I experienced, but I would like to share a few, in retrospect, about my time spent in the United States of America.
I am fortunate, honored and extremely grateful to have been chosen to intern for CASRI in 2015. It was especially rewarding because I feel like I have made a positive contribution to the work of CASRI, while participating in a life-changing opportunity for me to intern in the USA. Engaging in a public/private collaboration, such as CASRI, and learning about grassroots organizing, has been a major benefit to my studies.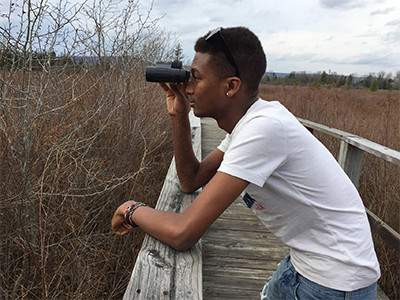 My name is Mart Kabochi. I was born in Nanyuki, Kenya, located on the western slopes of Mount Kenya, right on the equator. I attended primary school in the same town which is in the Rift Valley Province. While attending St. Mary's Boys Secondary School in Nyeri, our book club focused on the conservation works of Kenyan National Hero, Wangari Maathai, the leader of the Green Belt Movement and Nobel Peace Prize Laureate. She once said; "Until you dig a hole, you plant a tree, you water it and make it survive, you haven't done a thing. You are just talking."
Through a government sponsored program, I am now pursuing degrees in Political Science and Psychology at the University of Nairobi, the largest collegiate research university in Kenya with over 60,000 students. I am currently in my third year in the University and will finish my degree in 2016.
I am an active member of Friends of Karura Forest, a citizens group working to protect and restore a large urban forest in Nairobi. In 2014, I traveled to Moshi, Tanzania to become involved with a forest restoration and conservation education project on the southern slopes of Mount Kilimanjaro. I helped teach secondary school students the importance of planting trees and conserving the environment. While there I met American Forester and Conservationist, Dave Saville, who was working on the project.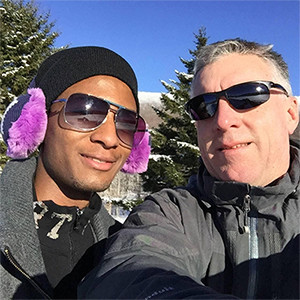 Dave, a Program Coordinator for the West Virginia Highlands Conservancy, working with CASRI, was impressed with my interests and saw an opportunity to provide an internship for me. Together, we developed a program which we were able to implement through the US Fish and Wildlife Service's Canaan Valley National Wildlife Refuge via a cooperative agreement with the US Forest Service's International Program. We were successful in fulfilling the requirements and getting through the process. I was awarded an Internship (J-1) Visa to the USA, where I spent January – May, 2015.
Dave Saville was responsible for administering the details of the Internship program and supervising me. He picked me up at the Dulles International Airport in Washington, DC on the coldest day of winter 2015 with below zero degrees temperatures. This was my first experience with snow.
Dave introduced me to the American culture, arranging for educational trips to phenomenal places in the country like the US Capitol building in DC, the Supreme Court, Martin Luther King monument, The Phipps Conservatory in Pittsburgh, and Central Park in New York City. I was also able to visit San Francisco, California. Dave arranged for my working stations in Morgantown West Virginia, The Canaan Valley National Wildlife Refuge, and work with The Nature Conservancy and the Monongahela National Forest.
Special thanks to the West Virginia Highlands Conservancy (WVHC) which took the lead role in administering this program. This included funding and arranging visas. I was fortunate to be able to attend WVHC meetings and meet the great folks behind the organization. They were not only welcoming but also gave me rich tutelage about how a small volunteer-run organization can effectively engage with other organizations and government agencies to accomplish important conservation goals.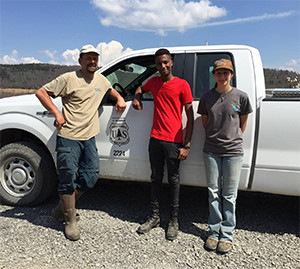 I knew Dawn Washington, Wildlife Biologist for the US Fish & Wildlife Service, even before I came to the United States. She was instrumental, since day one, with getting my visa and my internship documentation. Dawn is one amazing woman I was fortunate and grateful to have met. It was with her encouragement, cooperation and hard work that my internship was possible. She always has this vast knowledge of how to run things and get the job done. She would arrive in the office early and give me duties that would be a learning experience for me. She not only was a genius to her job but also made sure that she grouped me with colleagues Kris, Mimi and Rachel who were like family to me. They didn't mind to explain things to me so that I could better understand and learn, which was very fulfilling for me. I hope I will be able to work with Dawn again sometime in future and I thank her for being an amazing host and opening ways for my learning during the whole internship.
Ron Hollis is the USF&WS's Refuge Manager. When I first met him I didn't know he was the manager because he was so humble and down to earth. It was only after a couple of days at the refuge that I realized he was the manager. He was friendly, helpful and made sure I was comfortable in my Refuge bunkhouse. He was the man who signed my application documents and who took ultimate responsibility over the whole internship. I would like to appreciate the fact that there are good people like Ron that opportunities are given to deserving people in the world making their future brighter and having the opportunity to grow and partake wonderful experiences.
Everyone at the Refuge made me feel at home and like I was part of the whole family. I would like to give heartfelt appreciation to the USF&WS for giving me this opportunity to learn, grow and meet wonderful people I will never forget.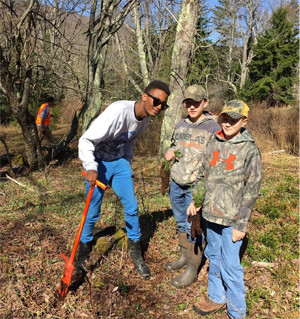 I would like to thank Lee Blaser and Ashlee Jackson with the US Forest Service International Program in Washington, DC. These kind professionals not only sponsored my Internship Program but also helped and guided us through the application process. I cannot forget to give thanks to Dan Heyman with the Public News Service, who interviewed me and produced a very nice radio segment about my Internship.
When I arrived at the airport in Washington DC, I was still fresh and curious about the whole American experience. It was late afternoon the sun was shining and I felt warm and happy as I made my way through customs, which went smoothly. Then, a happy reunion with my Supervisor, Dave Saville, and when we left the airport, I experienced a crisp, chilly and inexplicable cold I had never felt in my life. The temperatures were in single digits and the wind was blowing fast.
We spent the next couple of days in DC. It was the real America! DC was fun and lovely despite the cold winter season and I was glad to experience it. Then we hit the road to Morgantown West Virginia. It was a learning experience right from the start and I was able to learn about the interstate roads, connection between state boundaries and after a few hours' drive, we were finally in Morgantown, which was my first work station of the Internship. I was glad to meet Dave's family and friends and they all welcomed me so gracefully. I was able to experience West Virginia University where I interacted with students and faculty. West Virginia became a home to me with all the friendly folks and peaceful streets.
Working with CASRI was very eye opening and a learning experience. I was able to attend CASRI meetings and all I can say is that the kind of conservation work they do is serious stuff. I learned a lot working with this collaborative and would like to thank all CASRI members for giving me this rare opportunity to work with so many professional intellectuals.
I especially enjoyed working with Andrea Brandon, Mike Powell, Victoria Wolz, and Keith Fisher from The Nature Conservancy. I enjoyed spending time on the Lambert Run Restoration project with Shane Jones, Wildlife Biologist on the Monongahela National Forest. Chip Chase, owner of White Grass Ski Touring Center is one of the outstanding people you do not forget in life! He is full of life and spirit, so personable and very generous. He is a great musician and showed me around many of the great places in Canaan Valley. He assured me that life is never that serious because you need to create memories.
Looking back on the experience now, I realize how much fun to work with everyone was, but I must agree the whole opportunity was just magical to me. It would bring joy in my heart sharing more experiences with these amazing people. Perhaps Oliver Wendell Holmes said it best, "A mind that is stretched by a new experience can never go back to its old dimensions."
Home; is it the place where you live? Or the place where you belong? I graduate from the University of Nairobi next year and as I start down that Country Road of life, I can't help but believe that it will one day, indeed, take me Home, back to West Virginia. Thanks to everyone who made me feel like I belonged.