Measuring Restoration Success: CASRI Partnership Virtual Conference 2020
Given the current pandemic projections and the desire to keep all partners safe, the Central Appalachian Spruce Restoration Initiative will be hosting their 2020 conference in a virtual setting! Learn from CASRI partners and discover how Red spruce restoration success is being measured as CASRI continues to restore their historic ecosystems.
The conference will be held via Zoom from Wednesday, November 4th (9:00a.m.-4:00p.m. EST) to Thursday, November 5th (9:00a.m.-2:00p.m. EST). Check out these conference highlights below: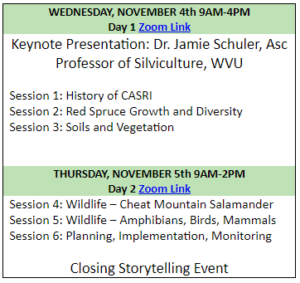 A full agenda of speakers and activities will be released in early October. Stay tuned!